Selfie light – It Can be easily carried in a pocket or bag and shoot in wherever you want. Easily mount on your phone with the headphone plug or clip, or handheld at any angle. With built-in lithium battery and is able to provide 45 minutes continuous LED light with no heat, no red-eye. The earphone plug adapter is compatible with all smartphones/tablets with a 3.5mm earphone plug. Simple for creative lighting: Provides supplemental or side lighting for creative photography and videography. It Can Be Used As A Simple Flashlight Or A Small Emergency Lamp, Taking Photo Is No Longer An Issue At Night. Simply Turn On The Led Powered Selfie Light And Enjoy Clicking Selfies Even At The Darkest Places And Capture All Those Priceless Emotions. Simply Plugin And Switch On With Three Levels Of Brightness.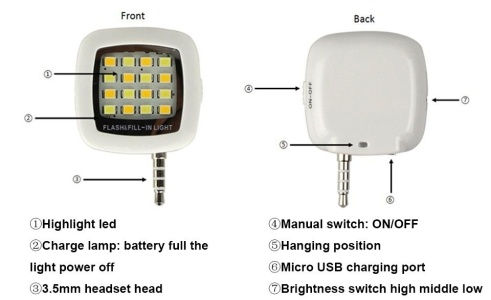 3.5mm headphone plug
Use the 16 LED bright white light (please avoid direct eye)
Portable mini LED external flash fill light, and also flashlight at night
Built-in a rechargeable lithium-ion battery, 165mAh capacity, with the micro USB charging port
The red light indicator for charging will turn off after the charging complete.
Can make independent lighting as auxiliary lamp
 1 Year Replacement Warranty On Manufacturer Defect